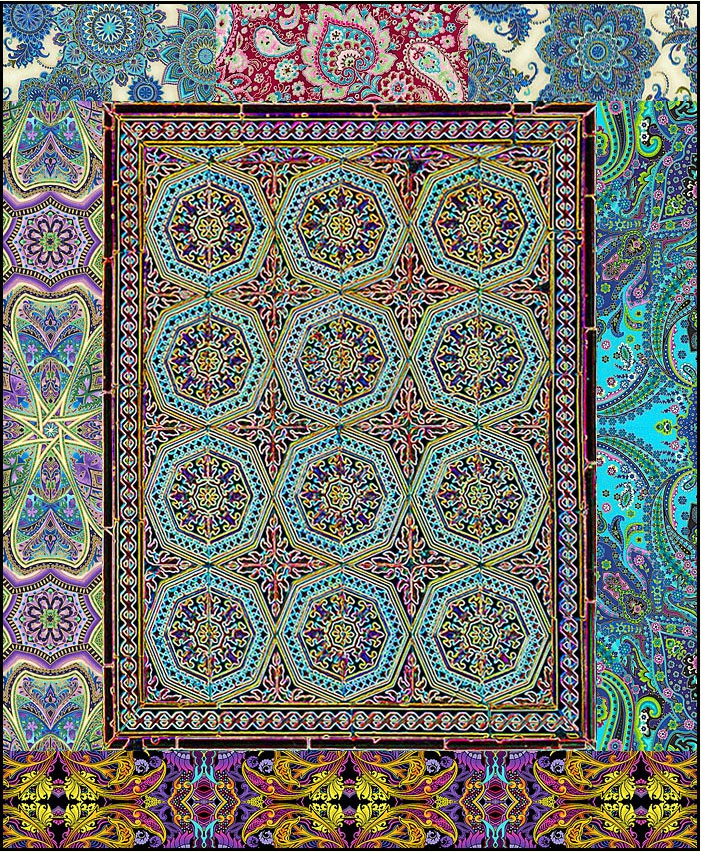 When you read this newsletter, I will have just landed at Narita Airport outside of Tokyo, and will probably be on the long bus ride into town. I am on my way to the Tokyo Quilt Festival, and yes, I will hand carry a precious batch of show books back to the US on Sunday.
I am sharing this image with you as a sort of a visual puzzler. Take a look closely before you read further, and see if you can decipher what is happening in the collage above.
One of the reasons I love to travel, is so I can take photos of all kinds of things that might relate to color, design and trends. Sometimes I take a photo of something that has potential, but I have to think about it for awhile.
This was originally a photo of a tile wall in the old walled city of Seville. The tiles were white with red, blue and green colors. I have been looking at the original photo for a long time, and last night I started playing around with it in Photoshop. Now it looks like a quilt! Then I matched it up with some of my favorite paisley fabrics that we have in stock now, and I find that this is a creative inspiration for me…. Maybe you too?
Part of creativity is opening the mind and letting alternate possibilities flow… removing the rules, the limitations, even the fears…and then seeing what happens.
The reason I go to Tokyo year after year is because it is a tremendous creative stimulation for me. I will share photos from the show, so you can be stimulated to open up to new possibilities also. I also share ideas from Houston Quilt Festival and the Birmingham Festival of Quilts, and the other shows I attend throughout the year.
Last year I interviewed Danny Amazonas and we showcased his work in a video. I never know what will happen in Tokyo – the best part is sharing it with you!
A reminder that we have Very Limited openings for the Tanzania New Years 'Great Migration' Safari one year from now, and we are taking registrations now…please call to make your reservation today!
sharing your Passion for Fabric…
Luana
********
2017 Travel Calendar:
Jan 18-22 – Tokyo Quilt Festival
Jan 26 – NASA Space for Art – opening reception
Feb 9-11 – Bernina Sewapalooza By Blakeman Sewing at eQuilter Classroom!
Feb 17-20 – Venice Photo Conference
Feb 24 – eQuilter Sponsored Cocktail Party at QuiltCon
Dec 29 2017 – Jan 5 2018 – Tanzania Great Migration – New Years in Africa – Taking Reservations NOW!
Share Post: