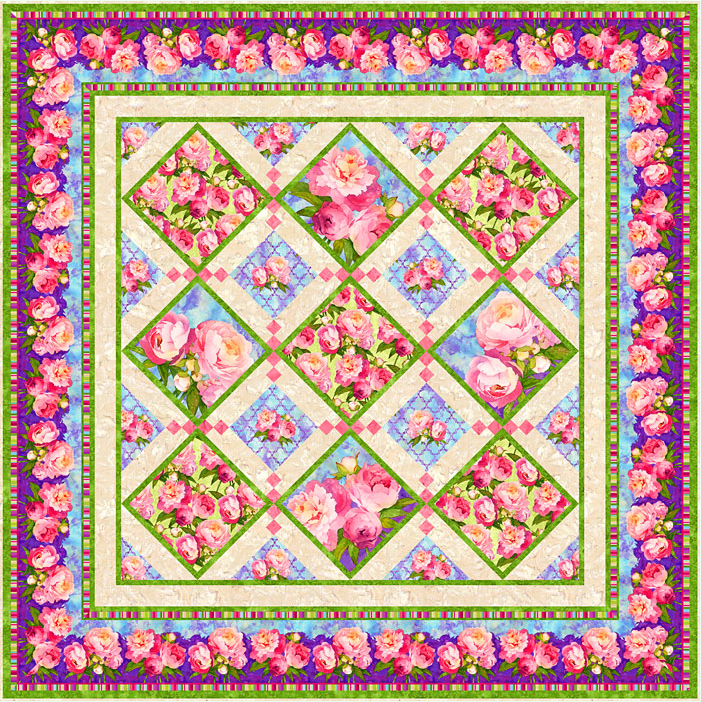 We love luscious Florals, and we are delighted to offer this exquisite garden of Peonies for this week's Free Quilt Pattern. This is one of the most beautiful flower collections we have ever had, and we want to share the love with our Floral-Loving quilters!
It starts with a juicy watercolor panel, with several vignettes of huge colorful blossoms. Then add fussy-cut bouquets, Hoffman Hand-Dye sashing and border strips, and a striking Peony border. The watercolor flower illustrations are almost too pretty to cut up, but we know you will enjoy sewing these fabrics into a lovely 66″ x 66″ Garden Trellis quilt design.
… from the 'Peony Passion' collection by Lynnea Washburn for Northcott Fabrics.
Order the pattern as configured, or customize it to your liking with any of our thousands of fabrics. Just place your desired fabrics in your Wish List, and these fabrics will appear in the Fabric Selector below the pattern.
EQ7 is the leading quilt design software, which is available here at eQuilter.
Click Here for a Video Tutorial of the Free Pattern Designer.
Download Instructions for the pattern at the bottom of the pattern designer page.
Share Post: