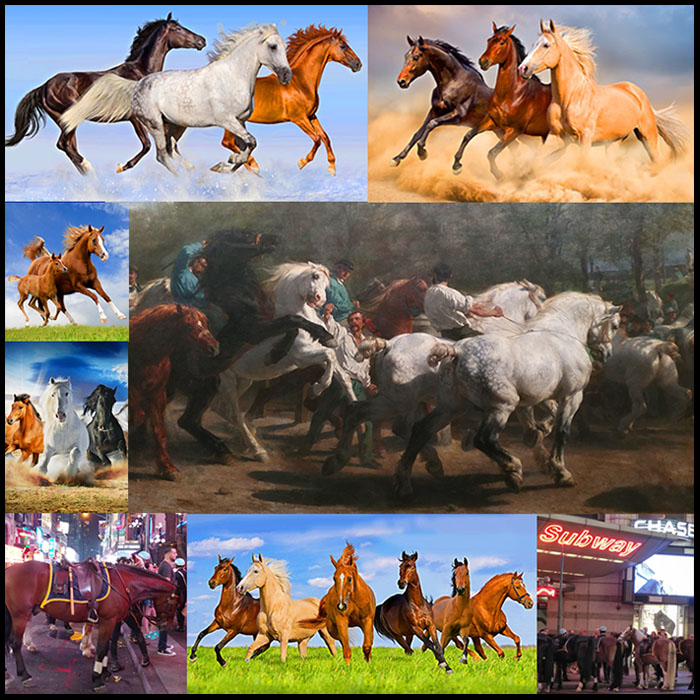 Last night I returned from New York City, and in reviewing my photos I found I took a lot of pictures of horses! One of the photos is of the massive painting by Rosa Bonheur – "The Horse Fair" – in the Metropolitan Art Museum. A much smaller replica of this hung over our couch when I was a little girl.
The first time I saw this epic painting in person, I was speechless….and breathless! Rosa had to dress like a man to attend the Paris Horse Market to make her sketches for this masterpiece.
In New York it is always a shock to see horses on those hard city streets. The police horses are well cared for…the carriage horses not so much. Tourists flock to the horses to pet them and have selfies taken with the animals.
We know that many of you are Horse Nuts (like me!) because we see all the Horse fabrics that you buy! Is there anything as beautiful as a horse galloping free? Is there anything that smells better than a horse? I think not!
I had a horse as a teenager, and all of our kids have had riding lessons because it's in our blood. My mom used to ride her horse bareback to school from her family's farm in Molalla Oregon. I rode my Quarter Horse Paint in the 4-H Barrel Racing at the County Fair.
Last week we watched scenes of horses, dogs and cats being rescued from the floods, and saw people risk their lives to save their beloved horses and pets. For some, their animals are their family. Every life saved is precious.
Friends in New Zealand – I will be attending the WOW show in Wellington Oct 5, and will be giving my lecture at the Symposium in Christchurch on Oct 7. Hope to see you there – tickets to the lecture are limited!
sharing your Passion for Fabric…
Luana
********
Travel Calendar:
Oct 1-11 – New Zealand – Intl Quilt Trends lecture at Quilt Symposium – Christchurch
Oct 27 – Nov 2 – Quilt Market & Festival – Houston
Dec 29 2017 – Jan 5 2018 – Tanzania Africa Wildlife Migration Tour
Feb 22-25, 2018 – QuiltCon – Pasadena, California
Nov 14-20, 2018 – POLAR BEAR Tour – Join me in Churchill!
Share Post: