Travel with Luana Rubin







Tanzania Migration Safari –


New Years Eve 2017/ New Years Day 2018



.(Photo: David Luck)


Join Luana Rubin to toast on New Years Eve 2017
on the Serengeti Plains of Africa!
____________________________________
Dear Adventure Traveler, we have posted the full eQuilter Tanzania Migration Safari itinerary and details below on this page, including contact details for our eQuilter adventure specialist Aly, at Natural Habitat.
This will be the 4th trip I have taken with Natural Habitat. (Previous trips to see the Polar Bears in Churchill Canada) Natural Habitat Adventures has been a leader in responsible adventure travel and ecotourism since 1985. Their excellent guides have consistently impressed me with their knowledge and professionalism. You will find additional information on our Dec 29 2017 – Jan 5 2018 trip also at this link:
http://www.nathab.com/africa/tanzania-migration/
Because of my busy travel schedule, I want to give you Dana as your eQuilter contact person: service@eQuilter.com
If you want to send me a question, please direct it through Dana, so she can chase me down for the answer in case I am out of the office. Due to the high volume of emails that I receive, you are more likely to get a timely response if you email Dana.
Space for this special trip is VERY LIMITED so please understand that to guarantee your place on this tour, you need to call our eQuilter agent ASAP at NatHab to give a $500 per person non-refundable deposit to hold your place.
We are so lucky to have Aly Jacobsen (Senior Adventure Specialist at Natural Habitat) as our wonderful coordinator for this adventure, and we are looking into a possible extra day before the tour, to have a local village/craft/textile experience.
Also, I will be doing the Ngorongoro Crater Extension post-trip, so if you want to join me, we can spend a few more days together!
Every confirmed traveler on this trip will receive a special packet of African wildlife-themed fabrics, in your pre-trip final document package. Thank you for your interest, and I hope to see you for New Years Eve 2017 on the Serengeti!
Best wishes,
Luana

Please do contact Aly directly at NatHab, for extra special treatment as an eQuilter friend/customer. Her phone number is 800-543-8917

Email: alyj@nathab.com



(Photos, L to R: Justin Gibson, Patrick Endres, Matt Goddard)



Dec 29 2017 – Jan 5 2018
DAILY ITINERARY
The Great Tanzania Migration Safari
A Luxury Mobile Tented Safari Across the Serengeti in the Midst of the Herds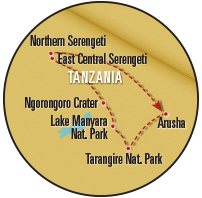 Day 1: Arusha, Tanzania Arrive in Arusha and transfer to Machweo, a luxury boutique inn perched on a quiet hillside high above the bustle of the town below. Enjoy the terraced gardens that offer a relaxing respite after your long travels, take a dip in the pool, or relax with a drink and admire the panoramic vistas. This evening, we gather for a welcome dinner.
Days 2–4: East Central Serengeti—Namiri Plains The legendary Serengeti derives its name from a Maasai word meaning "endless plains." We fly to Serengeti National Park, where vistas of golden savanna stretching to the horizon beneath deep blue skies provide iconic images of Africa. Meeting our safari vehicles and drivers, we set out on our first wildlife drive.
Our destination is Namiri Plains, a newly accessible area located in a remote sector of the Serengeti that has previously been off-limits to visitors for two decades. Surveying open grasslands and kopjes—rock outcrops— the camp offers fabulous wildlife viewing in diverse habitats, particularly of the abundant feline predators that live and hunt in this area. In fact, Namiri means "big cat " in Swahili.
Namiri Plains Camp provides exceptional seclusion: guests are alone on the vast private concession, and the next camp is a 45-minute drive. The isolated location ensures that we experience our natural setting, rather than tourist crowds. Evoking the classic safari atmosphere of an earlier age, just eight spacious canvas tents offer surprising comfort in a very remote setting.
Set in the shade of giant acacia trees, the camp offers 360-degree views of wildlife traversing savanna and the river with its perennial vegetation and dense green reed beds that attract birds and smaller animal species. Enjoy thrilling animal encounters on wildlife drives and discover a more intimate view of our environs on a walking safari with one of the resident specialist guides. We also have the exclusive opportunity to glean insight from our Expedition Leader on zoologists and cheetah researchers working in the area.
Days 5–7: Southern Serengeti—Natural Habitat's Migration Base Camp, Serengeti Depart this morning for the southern Serengeti with a wildlife drive en route. The days of heavy canvas hunting camps set for the likes of Roosevelt and Hemingway were nearly over until photo safaris gained popularity. Natural Habitat's Migration Base Camp exudes the ambience of old, with silver-service dinners presented on white linen by candlelight. While home to a profusion of wildlife year-round, there is nothing like the Serengeti during the phenomenon of the Great Migration.
We spend three full days among the sea of mammals, following them in open-topped 4-wheel-drive vehicles that offer superb photography access. The vast herds of wildebeest trek annually from Kenya's Maasai Mara to the southern Serengeti in search of new grass during the short rains, then back again. The wildebeest migrate with thousands of zebra, whose superior vision and hearing serve as an early warning system for predators.
We are in the region just as the 3-week birthing season is typically beginning, when the herds are mostly stationary. We'll hope to see infants (though timing on the calf drop is weather-dependent), as well as prey interactions. Predators seek out the most vulnerable members of the herds, and we may behold a lion taking down a sick wildebeest or a cheetah overtaking a newborn. Leopard, hyena and jackal also prey on the migrating herds while vultures hang in the air, waiting to feast on carrion. While the spectacle is at times grim, its primal drama is a wonder to behold.
Day 8: Arusha or Ngorongoro Extension / Depart Today our safari concludes, leaving us with a slate of memories to treasure forever. We enjoy breakfast in camp before transferring to the nearest airport. In Arusha, a day room awaits before a transfer to Kilimanjaro Airport for evening international departures. Guests continuing on our Ngorongoro Crater extension with Luana will bid farewell to fellow travelers, where they will remain in pursuit of more remarkable wildlife encounters.


(Photos, L to R: Matt Goddard & Greg Courter)


ADVENTURE INFORMATION
ADVENTURE FEE & DEPOSIT
$9295 per person, based on double or shared occupancy.
We welcome guests traveling solo, however we do not have guaranteed single rooms available on this trip. Every guest traveling solo must be willing to share a room with another traveler of the same gender, and will be booked at the double occupancy rate listed above.
Over the years, we've found that matching solo guests works out very well. Most of our guests have a lot in common, with similar interests in conservation, wildlife, and in this case quilting! Some even meet new friends to travel with again down the road.
It's highly likely that we will find a roommate to match with every solo traveler. In the unlikely event that we are unable to find a roommate to match for a solo traveler, there will be an additional single room fee of $420 for that guest.
A $500 per person deposit is required to confirm your space on this trip. Please call Aly Jacobsen at 800-543-9817 by January 15, 2017 to make a booking. You may also email Aly with questions at alyj@nathab.com.
Final payment will be due 90 days prior to the trip's start date, on September 30, 2017.
For all trip payments, we accept Visa, Master Card, Discover and American Express.
The program fee for your adventure includes:
Internal light aircraft flights, accommodations, all meals from dinner Day 1 to lunch on final day, non-alcoholic drinks at camps, with meals, and in vehicles, house alcoholic beverages in camps, services of NHA Expedition Leader, local guides and camp staff, some gratuities, airport transfers on Day 1 and final day, permits and entrance fees, and all taxes.
Your program fee does not include:
Travel to and from start and end point of trip, premium alcoholic beverages, some gratuities, passport and visa fees, optional activities, items of a personal nature (phone calls, souvenirs, etc.), airline baggage fees, airport and departure taxes, optional travel insurance, required medical evacuation insurance, and optional activities with Luana Rubin.
Save